A belated Monday post
By the time I settled down to blog last night, I couldn't get in to Blogger. Now I realize that it was during the maintenance outage last night. Ooops. So some of these are holdovers from yesterday. And I didn't think there'd be any pictures, because Photobucket ws down the morning. Computers, computers, computers...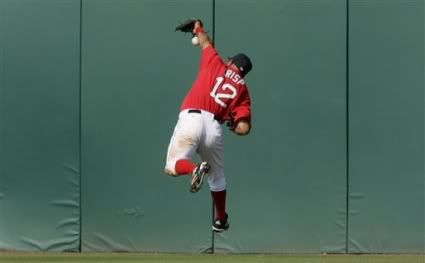 At the risk of using up all my cliches before the season even starts, I'm becoming coocoo for Coco. There are all kinds of reports out of Ft Myers, about how he signs autographs for ages, really works the crowd. And his showing some pretty balletic moves - dare I say, almost "Damon-esque"? Here's Francona:
''The one thing I really have been excited with is when he hits the ball he runs like his pants are on fire," said Francona. ''I love that. He hits it and he runs." (Globe)
We like that, too. And speaking of Damon, I found this interesting piece thanks to the Soxaholix - it's from the
Stamford
newspaper:
Damon's left shoulder ailed him enough last year that he received a cortisone shot in September. It apparently factored into the Red Sox's refusal to match the Yankees' four-year, $52-million offer to Damon in December. Nevertheless, Damon has never gone on the disabled list in 11 major-league seasons.
So maybe it wasn't so much "disrespect"!


How's this for a beautiful sight?
I'm glad to see Big Papi is getting into regular season form! Is he actually from this planet?
Last summer, I got a lot of amusement from seeing Dustin Pedrioa playing down at Pawtucket. He was so tiny! We joked that it looked like they had to find a batboy's uniform for him to wear. So I loved this in this morning's Globe:
Growing into it

Dustin Pedroia measured 5 feet 8 inches at his physical last spring. This year, he measured 5-9 1/4. Could he really have grown? ''Yeah," said the 22-year-old prospect. ''They said I did." Told the adjustment would be noted in print, Pedroia said, ''Thank you."
Maybe they can find him a full-sized uni now!
The rumor mill has it that the Sox are looking to reacquire Doug Mirabelli from the Padres. I was sorry to see Doug go - but one reason I accepted the trade was because I thought he'd finally have a chance to be an every day player. Although I loved watching him work with Wake, it must be frustrating to have the talent to play on that level, yet be pigeon-holed into a once-every-six days format. But then the Padres signed Mike Piazza, and it looks like they're going to give the star catcher most of the work. I'm sure Doug will still start more than he did, but...So maybe it might be good to get him back - although I think they can find someone to catch Wakefield.
I'm growing fond of that cute little Adam Stern. He seemed to spend most of last season with that deer-in-the-headlights look when he played, but I think his Team Canada experience may take that edge off. I loved this in the Herald:
The experience only fortified the 26-year-old's immense national pride. Stern, who played for Canada in the 2004 Athens Olympics, has a tattoo of the Canadian maple leaf intertwined with the Olympic rings above his heart
I want to see a photo of that! And how did the Canadians relax before they broke camp for the WBC? Playing street hockey, of course, with the winners buying the beer. However, according to the Globe:

The only downer: the boys couldn't get the beer they wanted, which would have been either Labatt Blue (made in Stern's hometown of London, Ontario) or Molson.

''We couldn't get it shipped in, coming across the border," Stern said. ''We had Busch Light, Coors Light. For us that's like water. Pretty much we were hydrating with that stuff.
I love it - hydrating with American beer. Oh, Canada, indeed!